In the summer heat of the early 90's a young lifeguard, born and raised on Siesta Key, was inspired to create the perfect place to end a beach day. Where good people could come together to sip on ice-cold daiquiris and enjoy the ocean breeze.
Daiquiri Deck was built to be an oasis for good times and great vibes, with a truly friendly atmosphere, and drinks you'll want to tell your friends about. After thousands of taste tests and extensive vibe checks, Daiquiri Deck has become the worldwide leader in frozen drink fun with patent-pending techniques perfected over 30 years to ensure you get the creamiest, juiciest frozen daiquiris in all of Florida every time.
Over the years, Daiquiri Deck has expanded to five Gulf Coast locations with more on the horizon, adding some all-time favorite local eats to the menu. So come in and see what it's like to live on Island time. We hope our Deck feels just like your own.
Chef Jeremy Thayer Press Release:
We are thrilled to announce that Chef Jeremy Thayer has just joined team Daiquiri Deck, bringing his culinary expertise and passion for delicious cuisine to our guests!
With over 29 years of experience in the industry, Chef Jeremy has developed a talent for creating dishes that are both tasty and visually stunning. He has a deep appreciation for fresh, locally sourced ingredients, and he believes in letting the natural flavors of each ingredient shine through in his cooking.
Chef Jeremy has already been hard at work in the kitchen, creating new and exciting dishes that are sure to become fan favorites. From classics like Jambalaya to innovative takes on coastal cuisine like his Lobster Pappardelle Pasta, every dish is made with care and attention to detail.
But it's not just his culinary skills that make Chef Jeremy such a valuable addition to the team. With a warm and welcoming personality, Chef Jeremy creates an atmosphere in the kitchen that is both supportive and inspiring.
We are thrilled to have Chef Jeremy on board and we can't wait for you to taste his delicious creations. Check out "Cooking with Friends: An EHS Culinary Adventure, Volume 1" to learn some of his coveted recipes. Follow us to keep up with our latest menu offerings and specials. Come visit any of our five locations today and experience the magic of Chef Jeremy's cuisine for yourself!
Daiquiri Deck "Food, Drinks, Friends."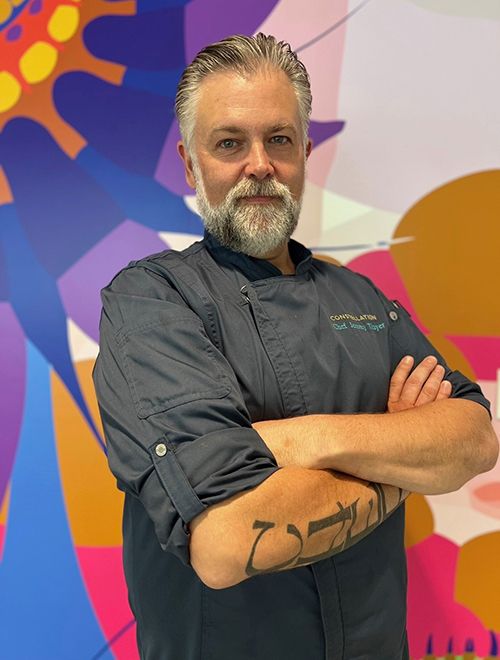 Red Snapper with Lemon Caper Butter Sauce
Char Grilled Tuna with Whiskey Cream Sauce
American Red Snapper with Tequila lime Butter Sauce